Toyota Tacoma Compass Display Repair
Has your Toyota Tacoma compass and temperature display stopped working?  The cause is small surface mount resistors that have failed.  However, we will replace these components with new upgraded parts, and restore your display to a condition far better than the original factory design.  Our repair technique won't fail…we guarantee it.
State of the art repair process.
Guaranteed not to fail again.
Fast turn around.
Free return shipment with tracking!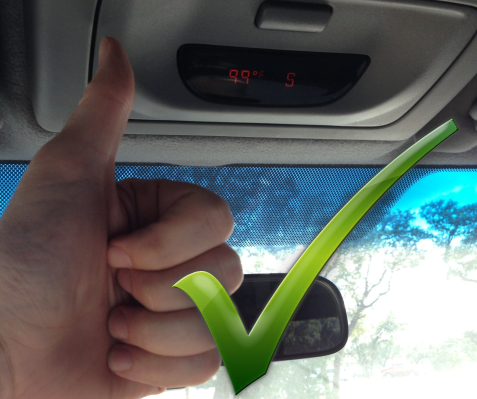 If your display has not been previously worked on, our success rate is 100%!  We are your Toyota Tacoma compass fix headquarters.
3 easy steps to repair your display:
1.)  Remove the display and ship it to us (very easy to remove). You can pre-pay online, send a check or money order (US only), or wait until we repair the unit to pay.  Please ship to:
HJ Services
301 Blankenship Ln
Erwin, TN 37650
2.) Once received, we take care of the rest!  First, we remove the old solder and faulty components, then professionally solder all new resistors onto your circuit board.  We also install wire lead heatsinks which not only radiate more heat, but also lift the resistors off the board to allow airflow.  We test the unit and if necessary troubleshoot other component failures.  After the repair is complete, we clean the glass / plastic interior surfaces.
3.)  We then ship the part back to you; we pay return shipping (USPS Priority to all states, PR, and Canada. Canada orders please note the increased shipping cost)  Turn around is usually 48 hours or less, not including shipment time.  Just reinstall your console, and done!
—Please click here to read the Frequently Asked Questions (FAQs) page—
 ***

Now you can ship out your display to us without leaving the comfort of your home!  Order a pre-paid shipping package.  The total cost of $79.99 includes round trip shipping and repair; you won't spend a penny more.  We send out a pre-paid, pre-addressed shipping box and bubble wrap to your door; all you have to do is box up your display and drop it in your outgoing residential mail / local post office mail box, and it is on it's way.  Save precious time…just select 'USA Pre-paid shipping' in the drop down menu of our payment button.  (US customers only, please)  See our shipping page for more info.
***
Repair your Toyota Tacoma overhead compass display. Tacoma overhead compass repair performed right, the first time.